Our methodology is rooted in the latest social science theories and applications in workplace happiness. It's built from evidence-based models taken from positive psychology, many ideas and successes from today's positive culture pioneers,
as well as a lot of common sense.
Our approach is built on 8 principles informed by all the things that matter the most. Together, they provide a framework for creating a positive and thriving company culture.
CLICK ON A PRINCIPLE TO FIND OUT MORE…
Look after the health and wellbeing of your people. Encourage balance and flexibility. Be a positive force.
Contribute to the wider good with a purpose that's bigger than your service or products. Be meaningful and sustainable.
Encourage open dialogue and active listening. Make sure people's voices and ideas are heard and valued.
Hire leaders who inspire, mentor and support teams to connect and collaborate to achieve great things.
Act like a community. Be human. Connect often for meaningful relationships. Laugh lots. Celebrate successes, big and small.
Give people ownership, trust, and tools to learn new skills, be successful and thrive
Make sure people feel valued and appreciated for their contributions. Make it personal and meaningful.
Be inclusive, respectful and encourage a sense of community and belonging.
HHQ'S 8 CULTURE PRINCIPLES
IN ACTION
By combining these core principles with the ideas and insights from everyone in your company, we can apply the science behind human flourishing in practical ways.
To help determine the best culture solutions to meet your needs, our first step is to take time to listen and understand your business, how it works and your future goals. 
We then create your tailored Culture Audit underpinned by our 8 Culture Principles. 
Everyone will complete their own online culture audit which takes around 30 minutes to complete. It allows everyone to tell us how exactly they're feeling and contribute positive ideas on how your company can radiate happiness.
It covers over 30 culture-essential topics, including mental health and wellbeing, flexibility, company purpose and mission, positive social value, job meaning, company values, communication effectiveness, team collaboration, strengths awareness, onboarding, learning and development, goals, autonomy, motivation, team sync, psychological safety, meaningful benefits, diversity and inclusion, pride and reputation, attraction and retention, and much more.
Using findings from your culture audit, we'll design and develop a workplace culture strategy that's tailored for your company and its teams.  
You'll get an easy-to-read Culture Report featuring your company's 'culture scores', along with our key findings, actionable insights, culture goals, initiatives and a roadmap for happiness.
When we've given you our insights and ideas on how to cultivate happiness, we won't just leave you to it. We'll continue to work with you to ensure that positive change happens and when the time's right, we'll also reassess all of your culture scores to measure and validate success.
Designed to provide a positive user-experience. Comprehensive yet engaging. Easy to navigate. Over 30 culture-essential topics covered. Gaining data and insight from everyone. Positively framed and jargon free.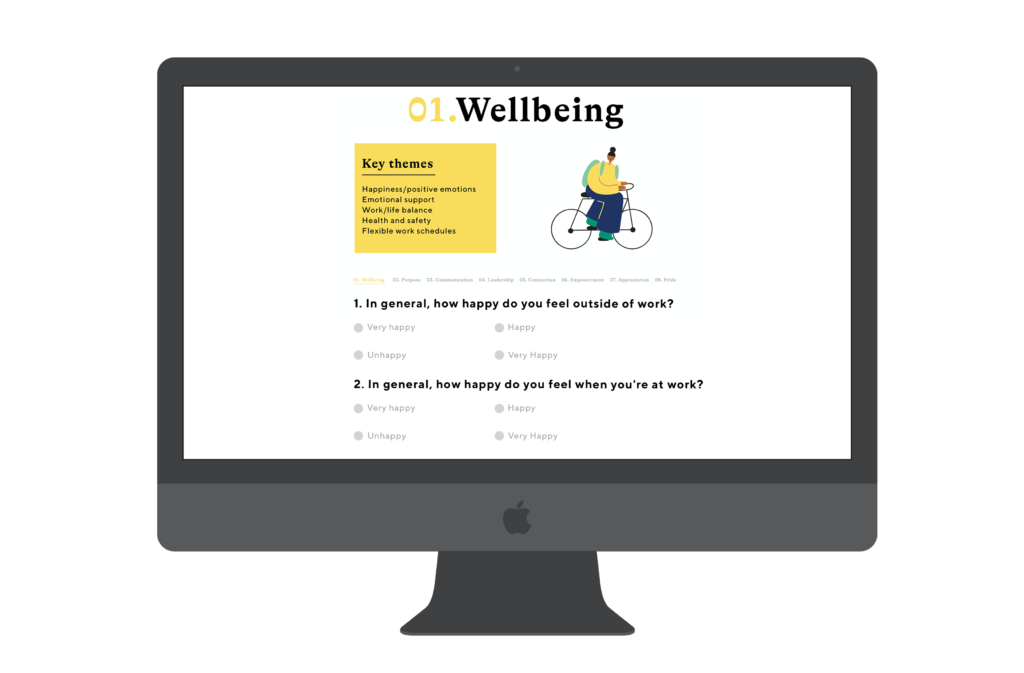 An in-depth, yet easily digested report. The design-led content is created as a sharable planning tool for you and your team(s). Like the audit, it's also positively framed and jargon free.